What's new in Installatron Plugin 8?
The release of IP8 represents the biggest leap forward since the release of IP7 in late 2011. The focus of this release has been in the areas of adding the ability to clone installed applications, enabling installed applications to be migrated from remote web hosting servers, improving the user interface, adding the ability to automatically update installed applications as new versions become available, and expanding most administrative settings to enable them to be set for individual users and packages. The end result is the world's most advanced web application automation experience. Try the free version today and see for yourself! As with all releases, this is a free upgrade for all licensees.
Clone installed applications.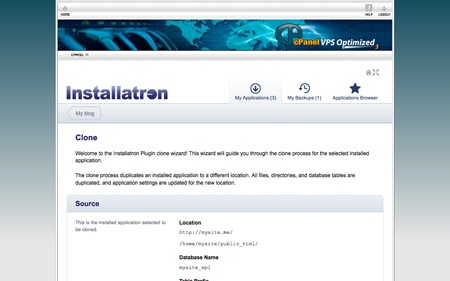 Clone is a revolutionary feature that enables installed applications to be duplicated to a different location.
Use Clone to test an upgrade before applying it to a production install, to create a sandbox to test mods, plugins, or themes, or simply use Clone to duplicate an installed application for production use. The uses for Clone are endless!
Any account location is a valid destination, including the root directory and any sub-directory of all sub-domains, addon domains, and domain aliases. All files, directories, and database tables are duplicated, and application settings are updated for the new location.
On cPanel, DirectAdmin, and Plesk servers, Clone can also be used from the Server Administrator and Reseller logins, enabling installed applications to be cloned between accounts.
Migrate installed applications.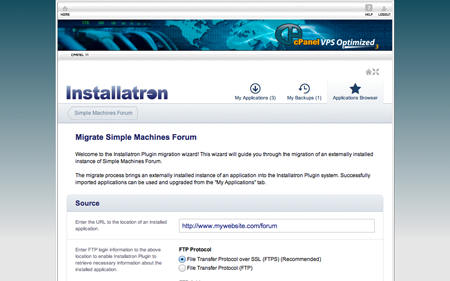 Migrate enables installed applications to be copied from remote web hosting servers.
Migrate is an extension of the "Import an existing install" tool that utilizes a remote web hosting server's FTP information to copy an installed application from the remote server to a selected location within the local web hosting account. Similar to Clone, all files, directories, and database tables are copied, application settings are updated for the new location, and any account location is a valid destination.
Automatic Update.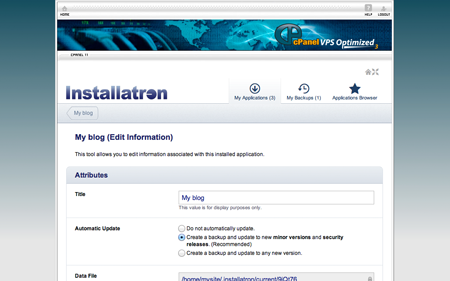 Tired of logging in to apply installed application updates? Want piece of mind security updates will be applied as quickly as possible?
Enabled at install time or later by editing an installed application, Automatic Update will automatically create a backup and update installed applications immediately as new versions become available. In the event the update fails, Installatron will automatically restore the created backup.
Automatic Update can be configured to only update to new minor versions and security releases, or it can be configured to update to any new version.
Edit installed applications.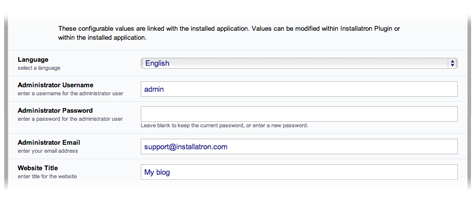 Synchronously edit installed application fields, like administrative username and password.
Since the release of IP7, we've been working towards adding support to each application to edit the administrative username and password, installed language, website title, and other values. This release marks the culmination of this effort, and these values can now be edited for most installed applications. Best of all, we've designed this feature so that values are always in sync with the installed application.
Live Demo and Live Demo Server.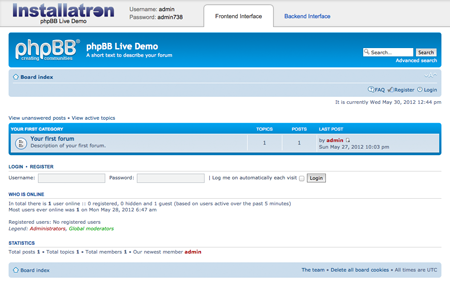 Ever want to rapidly evaluate an application prior to installation?
Live Demo provides links within the Applications Browser UI to pre-installed instances of activated applications for evaluation purposes. Live Demo resets each instance every couple of hours, and multiple instances per application are available to minimize parallel usage conflicts and enable evaluation of different languages and configuration options.
Live Demo Server, an optional extension of Live Demo, enables web hosting service providers to independently host their own pre-installed application instances.
User-interface Refresh.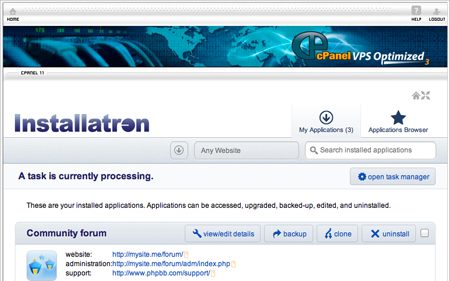 Design trends have changed since the last user-interface refresh back in 2009. For IP8 we re-appraised the whole user-interface, replacing out-of-style elements with modern counterparts and adding many new features.
A universal search and filtering bar has been added to the My Applications, My Backups, and Applications Browser pages.
Many textual button labels have been shortened or replaced by simple intuitive icons, and button tooltips have been added to many buttons.
The View/Edit Installed Application, Uninstall and Delete Backup confirmation screens have been vastly simplified.
All wizard systems have been overhauled and now feature a simplified layout.
Buttons and icons throughout the user interface have been updated.
Easier administration.
Reseller and administrative settings have been expanded to enable configuration for individual users and control panel packages. In previous versions, only activated applications could be configured in this way.
Installed application quotas.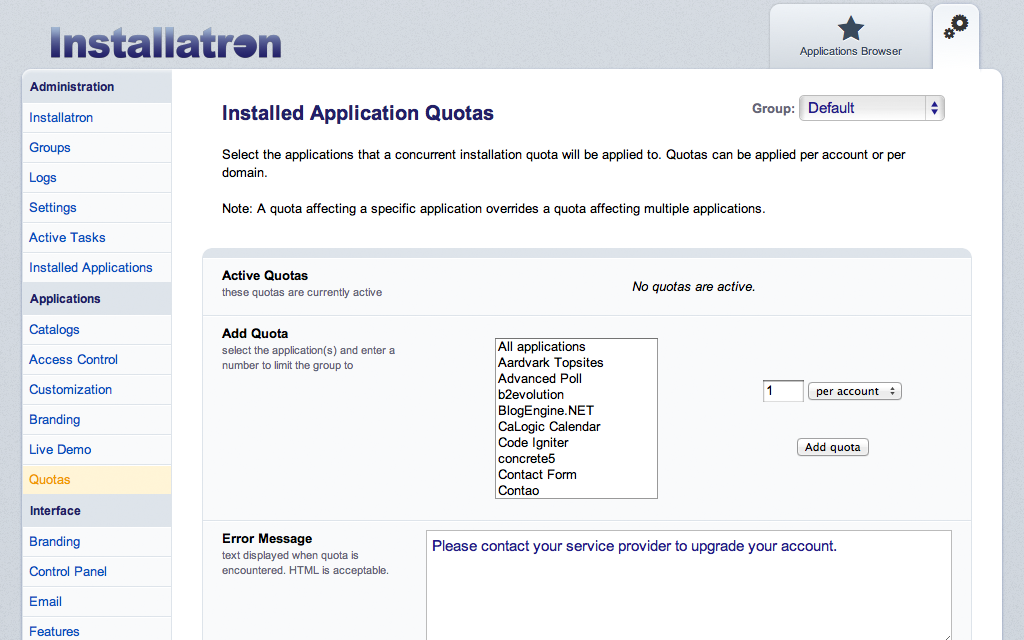 Limit the number of installed application website owners can have installed concurrently.
Quotas are a powerful tool that can be used to up-sale customers to larger web hosting packages. A customized message is displayed when a quota is exceeded, enabling the customer to follow a link to a billing system that automatically upgrades their account.
Quotas can be configured per account or control panel package, can be applied per account or per domain, and multiple applications can be grouped into a single quota.
Hundreds of additional improvements.
In addition to major features, hundreds of tweaks and improvements are included in IP8. Some of these include:
Reseller Installatron Update notifications are now turned off by default.

App installation to accounts with large numbers of domains is now better supported.

Installatron Converter has been simplified and now includes additional options.

Application Access Control UI improved significantly.

Application Catalogs UI simplified.

The Control Panel Widget has been improved, and is now available on cPanel, DirectAdmin, and Plesk.

Installed Application Branding now can include PHP code.

The reseller and admin panel Installed applications tool now loads more quickly.
See What's New in Installatron Plugin 7.0 (released late 2011)