What's New in Installatron 6?
The release of 6.0 represents Installatron's biggest leap in usability since its inception in 2004. The focus of this major-version release has been in the areas of the user interface and workflow, and the end result is an auto-installer that harnesses all the power and functionality of Installatron 5 in a system that just about anyone can intuitively pick up and use.

As with all Installatron releases this is a free upgrade for anyone with an Installatron license.

New Graphical User Interface
Installatron's GUI has been resigned for 6.0 to provide a cleaner environment. The more than twenty tabs, sub-tabs, and header links of Installatron 5 have been consolidated into just four context-sensitive tabs and two icons. The sidebar functionality has been extended to other tasks, and page buttons and tools have been uncluttered and repositioned based on web and application standards.

The new theme itself uses lighter colors in a modern style.
Improved Workflow For All User Tasks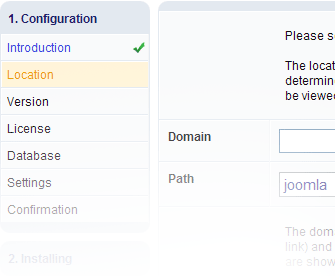 Drawing on user feedback, the workflow of all tasks, from installing to upgrading and restoring, have been redesigned from the ground up to make Installatron as intuitive as possible. The new task "wizards" will be instantly familiar to anyone who has ever installed software on their home computer; they allow the user to go back and forth through the steps, and perform the action only when they're ready. And standardization across all tasks gives 6.0 an almost horizontal learning curve.
Tasks can be chained so that, for example, users or administrators can perform a series of upgrades or backups as a single process.
Performance Increases
Version 6.0 sees speed increases across all page loads and tasks. Caching and optimization has almost halved the average page load time, and file system changes have increased all task processing (installing, upgrading, etc) by 150%. These speed increases will reduce the server load levels, noticeably on larger tasks, and give a better experience to the end users.
Nomenclature Standardization
In addition to the GUI and workflow improvements, all terminology used by Installatron has been examined and updated to improve comprehension and readability, and to make the software intuitive for anyone dabbling in websites for the first time.

For example; following the general trend, Installatron now installs and upgrades \"web applications\", or simply \"applications\", rather than \"scripts\". This nomenclature change is taken up throughout the GUI, and is accompanied by increased clarity in all user-level text used by Installatron.
Automated Dependencies
A large number of application requirements that once saw whole applications, or versions within, disabled server-wide can now be automatically enabled or disabled, as required by each application, by Installatron's Dependencies system. You can have Installatron automatically set requirements, such as PHP Safe Mode and PHP Register Globals, on a per-install basis. This allows more applications to be usable on the widest range of web hosting servers and gives users the best chance to find the software they need.
Restore Improvements
The restore feature, which allows a user to return a backup to its original "live" status, has been updated in 6.0 with improved functionality, and now includes the ability to select which files and/or database tables will be restored.
Branched Core Upgrading (Stable, Release, Edge)
Installatron 6 introduces a new release model where changes and additions will be staggered to allow for more testing before they become standard, which in turn will give Installatron greater stability on the widest range of systems. The \"Release\" branch is the recommended branch, but you will also now have the options of "Edge" (one week ahead of Release) and "Stable" (three weeks behind Release).