What's New in Installatron 6.1?
The release of 6.1 represents Installatron's biggest leap forward since the release of Installatron 6.0 in 2009. The focus of this release has been in the areas of the user interface and extendability. The end result is the world's best web application automation experience. Try the free version today and see for yourself!
As with all Installatron releases, this is a free upgrade for all Installatron licensees.
New Application Browser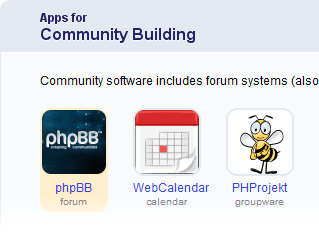 Installatron's Application Browser has been refined to provide a more intuitive workflow and elegant user interface. Selecting an application is more straightforward for beginners and veterans alike.
Better organization. Applications are organized by use, with descriptions aimed to assist application selection.

Highlighted applications. Popular applications are highlighted, helping draw attention to the most installed applications.

Search has been added. Find an application or multiple applications instantly by typing into the search field.

Screenshots and more. Every application information page has been overhauled, implementing a new layout, application usage screenshots, and other improvements.
cPanel Enkompass & InterWorx
Installatron now supports the cPanel Enkompass (www.cpanel.net/windows) and InterWorx (www.interworx.com) server control panels! All Installatron server licenses are eligible for use with these control panels.
Install Automation API with Billing System Integration
The process of installing applications can now be automated using the new Install Automation API. This HTTP-API is designed to be integrated effortlessly into existing billing and provisioning systems, enabling applications to be installed to new or existing accounts instantly. Documentation and sample billing system modules are included to jump start integration.
Furthermore, 6.1 also includes a configuration-free command-line interface, enabling applications to be installed instantly through SSH.
Read more: Installatron Install Automation
Sample: WHMCS billing system integration

Hundreds of other improvements
In addition to major features, hundreds of tweaks and improvements are included in Installatron 6.1. Some of these include:
Users now receive an email containing installation details after completing each install. The email template can be customized, or this feature can be turned off.

SEO features have been improved, enabling a small image or text hyperlink to be tastefully added to each installed application. These links can be customized.

Backup & Restore Improvements: Added support for gzgip compression of backups. Furthermore, restore reliability has been improved for large backups.

Better detection of existing details (database settings, etc.) for the user-level "Import an existing installation" tool.

By default more logical abbreviations are used for database names and table prefixes when the "Automatic" database option is chosen. Randomized prefixes are still an option in Installatron Admin.

Wizard "Next" buttons are now the default focus, enabling use of the "enter" key to fast-forward through wizard steps.

Plesk: Account name is prefixed to created databases and database usernames.